We tried these peanut butter cookies a couple months ago and they were really good. If you know anything about Vegan desserts, they are often very involved, time-consuming and include special ingredients. This recipe is awesome because it's quick and easy and it doesn't have any uncommon ingredients. I'm anxious to try substituting the applesauce with bananas (Heather's idea, not mine).
Thank you
Chocolate Covered Katie
for the recipe!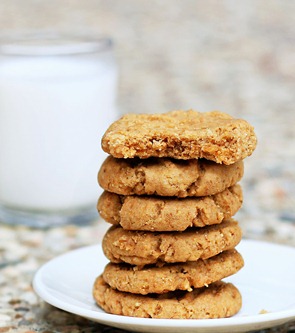 Peanut Butter Secrets
Delicious peanut butter cookies!
1/2 cup peanut butter
3/4 tsp baking soda
3 tbsp whole-wheat pastry flour (or white or a gf mix)
1/4 cup sugar
2 tbsp coconut sugar or brown sugar (Brown Sugar is not vegan)
2 tbsp applesauce
1/2 tsp pure vanilla extract
optional: pinch salt (Taste the batter to decide.)
Mix dry ingredients very well. Then add wet and form cookie balls. If you want soft cookies, fridge the dough for at least an hour. Then bake in a preheated oven (350F) for 8 minutes. They'll look underdone when you take them out, but that's ok. Let cool for at least 5 minutes before removing from tray.
To keep them soft, store leftover cookies in a plastic container. This recipe will make about 15-22 cookies, depending on how big you roll them. (For 22 cookies, they'll have 50 calories per cookie.)
http://chocolatecoveredkatie.com/2011/12/11/secret-

peanut

-

butter

-

cookies

/